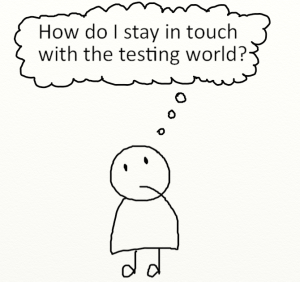 Stay in touch with the latest software testing blog posts: http://www.news.qxf2.com
---
WHY?
Its been a pet peeve of mine that testers do not read enough. The biggest and brightest names in the software testing space regularly share their thoughts and only a motivated few follow them. I have interviewed a hundred plus software test engineers. Only a handful of them could name blogs they read and even fewer had setup readers. Almost once every two years I see a post listing the top blogs in the software testing field. And yet, questions like this are common. This is my attempt to simplify the reading habit for testers.

WHAT?
Software Testing News displays the 16 latest blog posts from the top names in Quality Assurance and Software Testing. The site updates every hour.




Bonus: Want to refer to blog posts on a topic you are working on? Try the handy custom search option.

HOW?
1. Visit Software Testing News once a day.
2. Read the blog posts that interest you
3. OPTIONAL: Got a topic you are reading up on? Use the custom search
© 2013-2018, Arunkumar Muralidharan. All rights reserved.