Problem: Maintaining testing infrastructure for testing across different combinations of browser, browser version and platform is difficult and time consuming.
Of late, there are many tools that help testers quickly spin up any combination of browser, browser version and platform. Below, we give a brief outline of some tools that we use at Qxf2 Services for doing cross browser testing.
Cross browser testing tools
Some tools you can use to test your applications on different Browsers and OS without having to invest much on infrastructure:
a) Sauce Labs
b) Modern IE
c) BrowserStack
---
1. Sign up for a Sauce Labs account. You can sign up for a Free Account where you get 30 manual testing minutes.
2. Login to your Sauce Labs account
3. Select "Manual Tests" tab to start Manual Testing
4. Click on "New Manual Test"
5. Enter the URL of the application you want to test
6. Choose the OS and Browser
7. Click on Test
8. Once Sauce Labs launches the Remote Machine you can start testing your application on the Remote Machine
9. You can also file Bug, take screenshot while you test the application
10. You can view the results on your web account. Login to your Sauce Labs account and you should see a result as shown in the screenshot below.
---
1. Microsoft provides different combinations of browser and OS virtual machines at Modern Web.
2. You can get free Virtual machines by clicking on this link. Choose the OS and the browser you want and download all the EXE and RAR files for the VM
3. After you download all the files run the EXE file to extract vmc/vhd files

4. We will use Microsoft Virtual PC to run the VM.
5. Go to your start Menu and launch Microsoft Virtual PC
6. Click on New button which will launch New Virtual Machine Wizard
7. Click Next and then check on "Add an existing virtual machine" and click Next.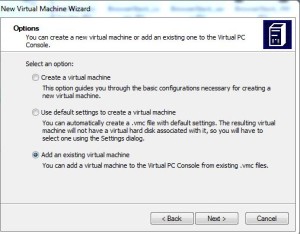 8. Browse for the vmc file created earlier and click next and Finish to add the VM to Microsoft Virtual PC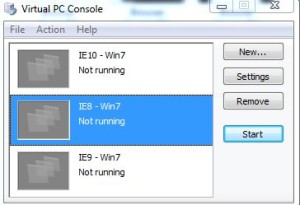 9. You can change the setting parameters like RAM, Networking (connect to appropriate Network Adapter) etc by clicking on Settings button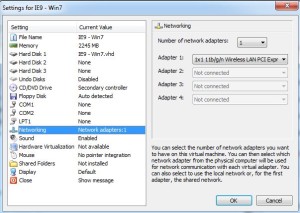 10. Click on Start to use the VM created and test your application on the VM created.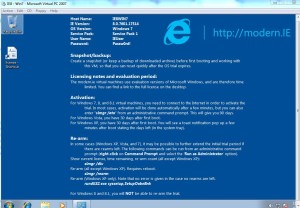 11. For Windows 7,8 and 8.1 virtual machines, you can connect to the Internet in order to activate the trial. You get a 90 day license period
For Windows Vista, you have 30 days of trial period
For Windows XP you have 30 days of trial period
12. For Windows XP, Vista and 7 you can re-arm to further extend the initial trial period
Process to re-arm
Right-click on command Prompt and select the 'Run as Administrator' option
Enter command slmgr/rearm to re-arm Vista and 7.
To re-arm Windows XP enter command rundll32.exe syssetup,SetupOobeBnk
slmgr/dlv command will help you to get current license, time remaining and re-arm count
13. For Windows 10, to run virtual machine you need to use Hyper-V . Once you have downloaded Hyper V import required Virtual Machine using this link and run it.
Note
The Hyper-V role cannot be installed on Windows 10 Home. You may need to Upgrade from Windows 10 Home edition to Windows 10 Professional by opening up Settings > Update and Security > Activation.
---
Browser Stack provides access to 300+ desktop and mobile browsers on different Windows, Mac & mobile OS flavors.
1. You can create a free BrowserStack account where you can get 30 mins of free Manual testing across different browser and OS
2. Login to your BrowserStack Account
3. Select the OS and Browser you want to use and enter the URL of the application you want to test.
4. Now you can start testing the application on the Remote machine.
5. You can also capture a bug using the Issue tracker.
6. All the Issues along with Screenshot which were saved can be found in the Issue Tracker section for Defect tracking.
---
Happy testing!
I am a software tester with over 14 years of experience in software testing. Currently, I am working at Qxf2 Services Bangalore. As a student of the context-driven approach to software testing, I feel there is a lot to learn out there which keeps me very excited. My work has helped me gain good experience in different areas of testing like CRM, Web, Mobile and Database testing. I have good knowledge of building test scripts using Automation tools like Selenium and Appium using Java and Python. Besides testing, I am a "Sports Fanatic" and love watching and playing sports.