Takeaway: Ask "Over what time frame?"
When to use?: As always, it depends. I usually ask "Over what time frame" when I seem to be agreeing with multiple sides of an argument.
"Over what time frame?" is a powerful question to set context, especially in early stage software and/or recently formed teams. Why? Because the quality of a solution is heavily influenced by the time frame over which it needs to be delivered.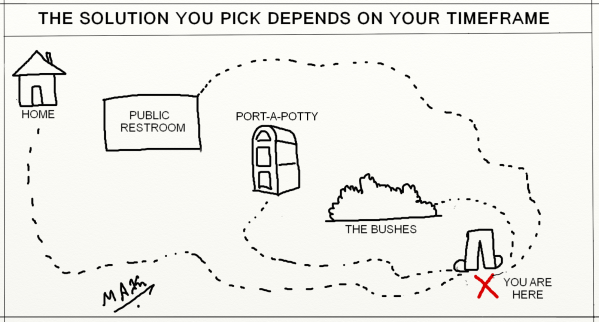 Obvious? Not always. Smart, competent people agree on a problem but argue over the solution without clarifying that time frame is the primary reason driving their choice of solution. Sometimes business wants home but development proposes the bushes. As a tester, you can likely prevent a ton of errors early on by
1. clarifying expectations
2. anchoring why the solution is being chosen
3. getting a feel for what business/users mean by 'quality' of the solution
If this is your first time trying this, be warned that there are plenty of non-answers. You could hear vague non-answers like: short term, medium term, long term, fairly early on, at steady state, as soon as possible, fairly urgently, its a priority, etc. One way to handle this, is to follow up with a thoughtful 'Hmmmm … I need some clarity. What do you mean by short term?' or 'I am assuming short term is within the next one month. Are we all on the same page ?'
---
What is the context for this post?
I believe some software bugs are born outside of code. I believe testers should try, where possible, to prevent potential bugs before a single line of code is written. Testers can play a big role by continuously asking context, polling for expectations and explicitly communicating assumptions and potential risks about the software. This post is one in a series of tools, questions and tactics that testers can use to set better context.
I want to find out what conditions produce remarkable software. A few years ago, I chose to work as the first professional tester at a startup. I successfully won credibility for testers and established a world-class team. I have lead the testing for early versions of multiple products. Today, I run Qxf2 Services. Qxf2 provides software testing services for startups. If you are interested in what Qxf2 offers or simply want to talk about testing, you can contact me at: [email protected] I like testing, math, chess and dogs.