This is an article about my experience working remote, the challenges which I faced and how I tried overcoming them. I hope this article would be helpful for people who have recently started working remote or who are planning to work remote soon.
---
A Great start
The thought of working remote may excite some people or put off some people. It may depend on the kind of person you are. When I planned to change my job a few years back, I was looking at some openings which would give me an opportunity to work from native (Mangalore). So when I joined Qxf2 Services and I had an option to work from home, I was very happy. Being an introvert, I expected working remote would suit me well. My transition to work from home happened slowly. Initially, I was working for a couple of weeks from office in Bangalore and then a couple of weeks from home in Mangalore. Also, I used to tag team with my colleague so I was actually managing it well.
---
Stumbling block
Slowly, I realized that things can get complicated and boring. You miss various things which you don't realize is important in your day to day work life. My work schedule started getting messed up. I ended up working more hours, my productivity decreased. I used to feel a bit lonely too. I realized I needed to change few things quickly to put myself back on track.
---
Adjustments
Even great cricketers like Sachin had to adapt for various conditions. I looked at ways to overcome them and made some adjustments.
The office setup:
My initial office setup was a small desk in one room. After few days, I was not able to concentrate in my small room. I really didn't think the environment plays a big part in your daily work routine. But believe me, it does! I managed to overcome this by getting myself a bigger work area. I like my work area now it has a lot of open space and a lot brighter.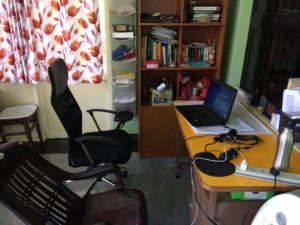 I still often change my place where I work. I work sometimes from my bedroom, hall, etc. just to make things different. It definitely helps me concentrate better.
The environment:
I always felt I needed a silent place to work. In my previous office, I used to think I can work better if I had a silent cabin. When I started working from home, after some days, it felt a bit too silent. I tried overcoming it by playing some songs. I also tried websites like coffitivity which play ambient sounds helping you create a different environment in your workplace
Company:
Though we have a very good set-up to discuss issues with my fellow colleagues, I still missed the tea time or water cooler talks which we usually have with our colleagues. I really found things boring sometimes. I started stepping out a bit more. I went to meet up with my friends for tea or lunch. So if you are planning on working remote, it would be helpful if you are able to build a network of like-minded people.
I tried co-working places but in a city like Mangalore, it is harder to find such places. Maybe I will find some soon.
Managing your work timing:
I am still working on this issue. You may feel since you have the whole day to work you sometimes lose intensity. Try to stick on to a schedule and fix your work timing.
Offdays:
No matter how hard I tried, I still had some off days. Arun helped me a lot in this regard. He asked me not to take this too seriously. Some days would be better and some days will be a little off. So things will improve gradually
---
I am still finding newer ways to overcome issues. It's a learning curve. I still like a lot of benefits which I get working from home. Nothing like watching your daughter grow up in front of your eyes…
I am a software tester with over 14 years of experience in software testing. Currently, I am working at Qxf2 Services Bangalore. As a student of the context-driven approach to software testing, I feel there is a lot to learn out there which keeps me very excited. My work has helped me gain good experience in different areas of testing like CRM, Web, Mobile and Database testing. I have good knowledge of building test scripts using Automation tools like Selenium and Appium using Java and Python. Besides testing, I am a "Sports Fanatic" and love watching and playing sports.